Setting Up Physical Spaces for Learning
All photos by Jens Lucking Photography featuring designs by Playfulnest.
If you are looking for a way to help foster your child's speech and language development, the physical space is a great starting point. With a few key strategies, you can create an environment that encourages increased attention, exploration, and communication.
Safety and Behavior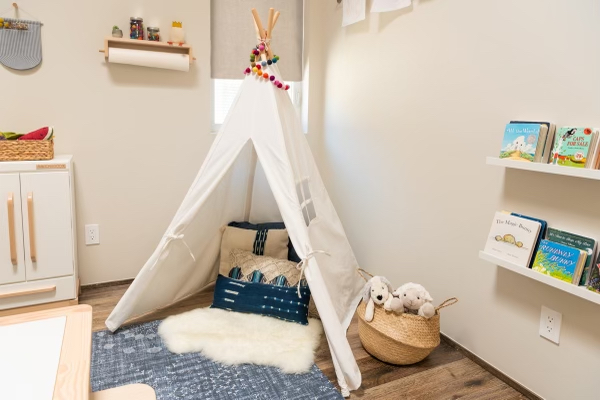 Excessive clutter, especially in a small space, can be a hazard for active children. Removing unused or rarely used items and keeping other items in designated places can help minimize injuries. Many people also find that disorganization and clutter increases their tension and stress. In addition, growing up in an organized and efficient home has been correlated with advanced levels of educational achievement and higher earnings (Dunifon et al., 2001). Areas that do have clutter (e.g., open storage shelving, stacks of boxes) can be blocked from view by hanging a curtain or using a screen or room divider. Lastly, many children benefit from a cozy area where they can calm, such as the tent shown above. Each child is different and what works for one may not work for another, but there are certain items that many children find soothing. These include pillows and cushions, stuffed animals, stress balls or fidget toys, books, and noise canceling headphones. Your child may be able to identify items they find calming to include in their "cozy corner."
Organization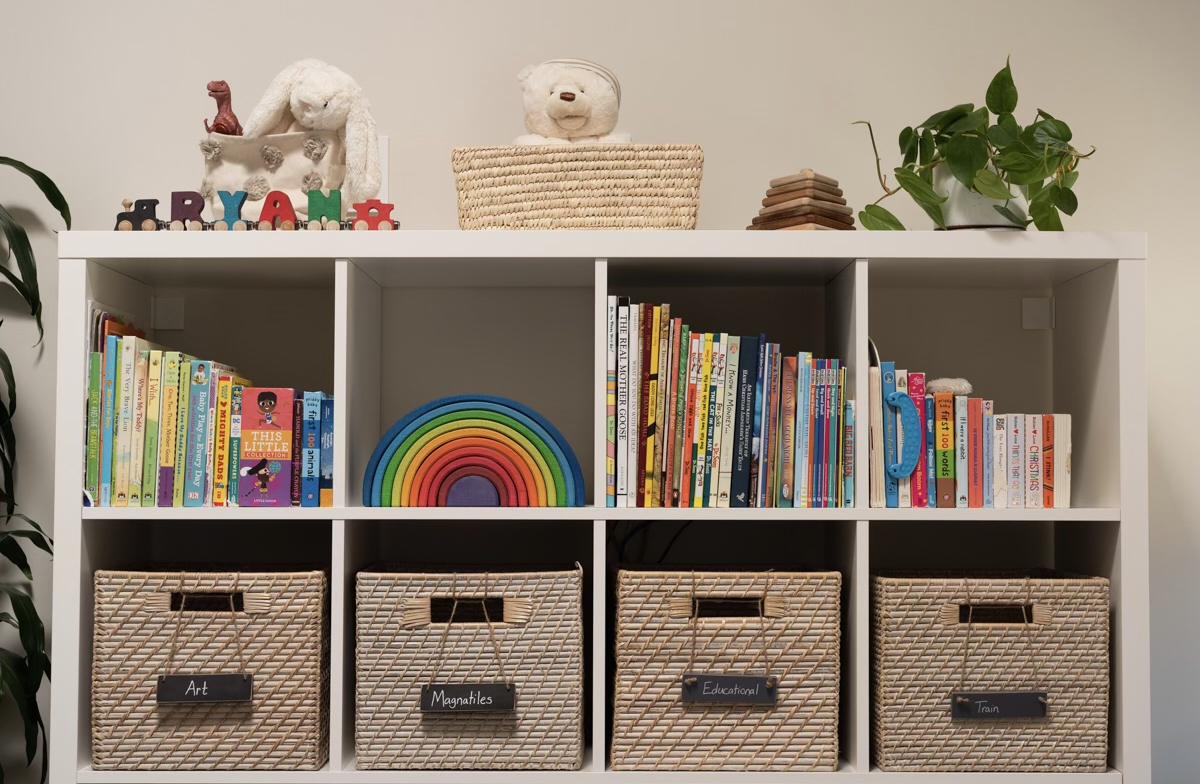 Placing items of similar category/use in containers on low shelves close to where they can be used will help children play independently. Clear containers will make it easy for your child to identify where items can be found and where they should be returned. Labeling the containers will also help in this regard as well as expose emergent readers to written words in a meaningful context. For children with emergent language, keeping some favorite items within view but out of reach (e.g., high shelf), or in tightly closed containers, will encourage them to request the items or request assistance accessing the items.
Zones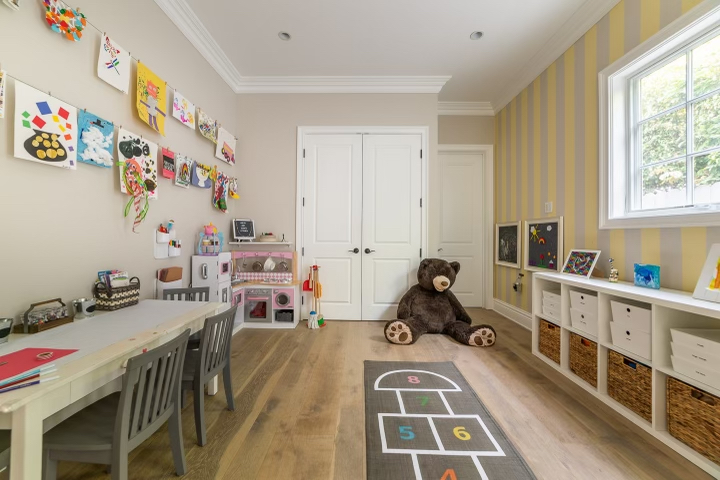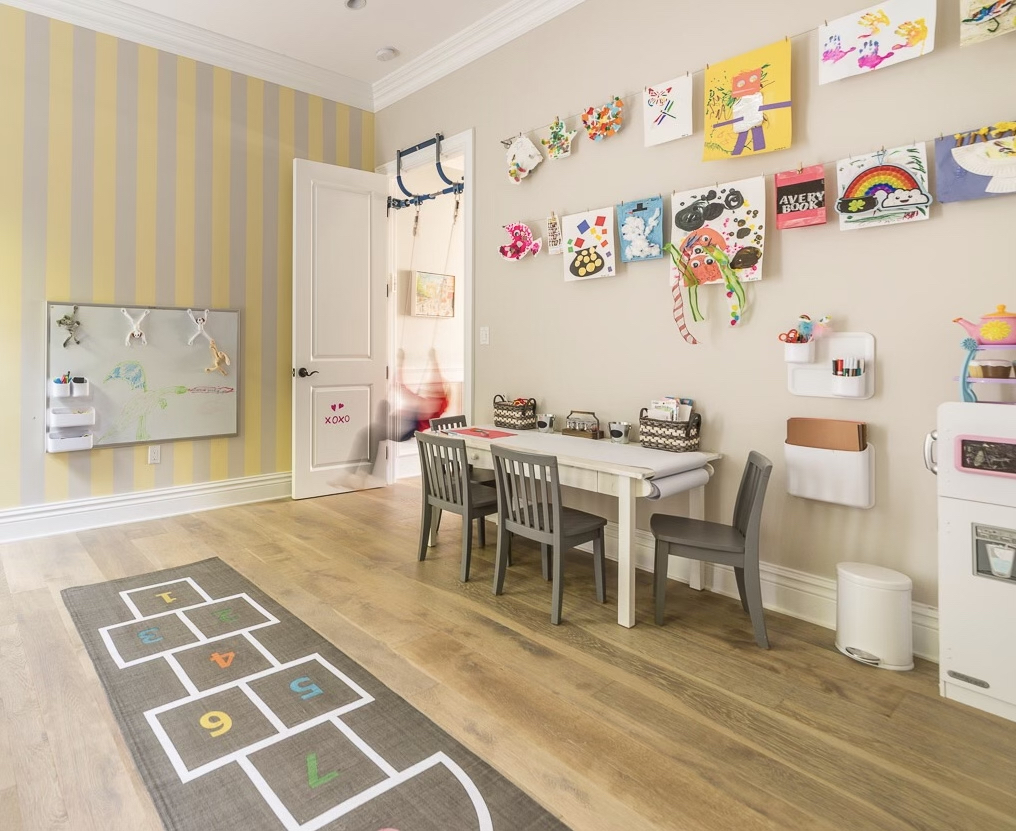 If you have more than one child, consider creating zones for interactive play but also areas for independent play and learning. Carpeted areas are wonderful for playing on the floor but are not well suited for messy play. Designate another area with hard floors for these activities (e.g., slime, painting) and set up a storage area nearby for the play materials and cleaning materials. The table shown in the photos above is perfect for arts and crafts, tabletop board games, and homework. In the corner is a zone for pretend play. A gross motor zone for active play and exercise is also included via a removable doorway swing. The magnetic dry erase board on the wall can be used for a variety of purposes including play or to post a visual schedule.
Aesthetics
Natural lighting from sunlight and soft lamps often have a more positive impact on mood and behavior than fluorescent lights. This can be especially true for children with autism or ADHD. Wainscoting may be advisable to protect wall surfaces, particularly in areas designated for active play. Children's toys, art and even clothing are often made with bold and bright colors. Consider painting the room in a neutral color to avoid overwhelming the space. Displaying children's artwork encourages creativity and a sense of pride in accomplishment.
Room design may not be a parent's first thought in how to foster their children's development, but it can have a tremendous impact. For more information and guidance, see the Additional Resources and References listed below.
Additional Resources
Playfulnest offers play consulting and play space design provided by occupational therapist Nicole Lucking.
References
Boggs, T. (2016). The Effects of Environmental Modifications and Visual Supports in the Home on Engagement and Challenging Behaviors in Children with Autism. Electronic Theses and Dissertations. Paper 3099.
Dunifon, Rachel & Duncan, Greg & Brooks-Gunn, Jeanne. (2001). As ye sweep, so shall ye reap. American Economic Review. 91. 150-154. 10.1257/aer.91.2.150.
Olds, A. (2000). Child care design guide. New York, NY: McGraw-Hill.
Wetherby, A. M., Prizant, B. M., & Hutchinson, T. A. (1998). Communicative, social/affective, and symbolic profiles of young children with autism and pervasive developmental disorders. American Journal of Speech-Language Pathology, 7(2), 79-91.